JOHN WAYNE CONGRESSIONAL GOLD MEDAL BELT BUCKLE:


 Attention All 'John Wayne' Fans
 A VERY RARE FIND!
I just acquired a small quantity of the...
United States Mint's John Wayne's Congressional Gold Medals...
"John Wayne is not just an actor, he is the United States of America"....
The bill for John Wayne's gold medal was introduced to Congress
 by Duke's friend, Senator Barry Goldwater on May 22, 1979.
Part of Goldwater's testimonial included these words:
" John Wayne has dedicated his entire life to America
and I am safe in saying that the American people have an affection for
John Wayne as they have had for very few people in the
history of America".
There were many testimonials given in Washington that day,
asking Congress for the medal. Congress approved the bill
and President Jimmy Carter signed it.
Production of the gold coin by the U.S. Mint started in May, 1979.
The medal was
presented to John Wayne's family at the Capitol on March 6, 1980...
This Fantastic Belt Buckle has very limited availibility....!
 The Buckle: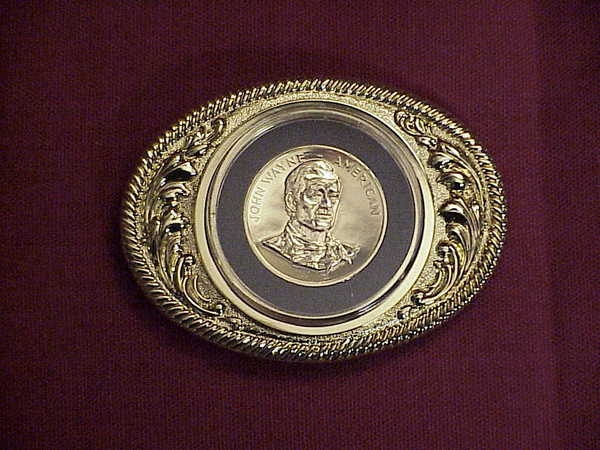 Each Belt Buckle is 100% Solid Zinc die-Cast.
Than Plated With  24KT. Gold....
The Official John Wayne Congressional Medal
is encased in a clear air-tite plastic coin holder.
TO KEEP ITS BEAUTIFUL HIGH LUSTER FINISH
and to also protect the medal from any damage....
Belt Buckles are 3 3/4" by 2 3/4"....
 The Medal:
The official Issue : United States Mint
Congressional GOLD Medal:
The medals where issued in 1979 in very limited quantities.
They measures 1 5/16" in diameter.
They are plated in 24Kt. Gold.
These RARE medals have not been available for over 30 years!
 The Gift Box:
 Belt buckles are individually packaged in it's own box..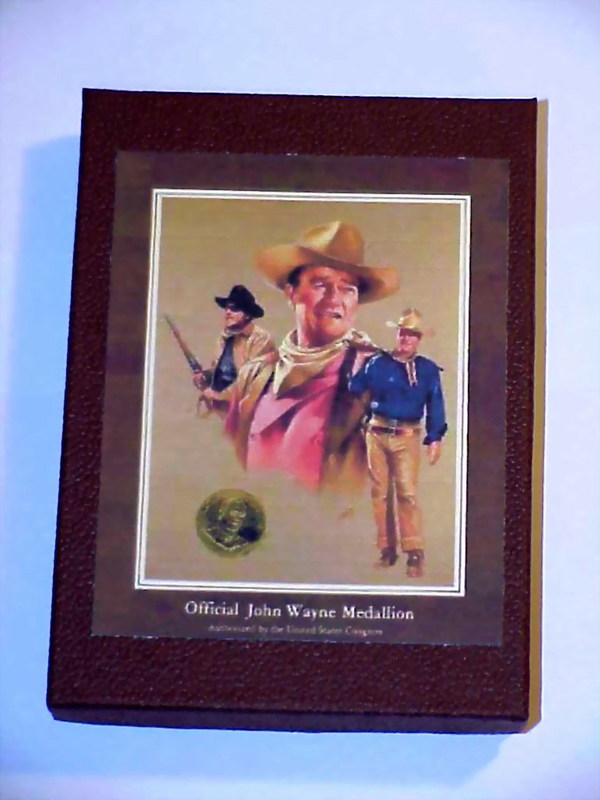 This a must have for the true John Wayne Fan...
This also makes a Fabulous Executive Gift...For the
man who has everything....Looking for that special gift for a close friend
or maybe your boss?
Look no further..
The quality of this item, truly impresses...
Remember limited quantities available....
M.S.R.P. $119.95
Priced at Only $79.95 each plus $8.95 insured shipping....
Please Note: The John Wayne Congressional Gold Medal Coins
are available individually for $59.99 each shipped
 
Please Contact me by phone or email, if you wish to purchase or have any questions..
Thanks for looking.....
Stu Gabriel (MrGun)
215-280-0251